Torqeedo Cruise 6.0 T Electric outboard for motorboats and sailboats u
Torqeedo Cruise 6.0 T Electric outboard for motorboats and sailboats up to 6 tons
Description:
Cruise motors are the electric outboard motor of choice for motorboats, dinghies and commercial users.
All Cruise systems have a built-in GPS with on-board computer and display with speed and input power, state of charge and remaining range, with a compact, low-drag, and lightweight pylon with advanced helical gear design.
Cruise 6.0 T is a tiller-equipped 48-Volt, 9.9 horsepower-equivalent outboard perfect for boats up to 6 tons.
The Cruise 6.0 is also available as a remote-steered or fixed pod model.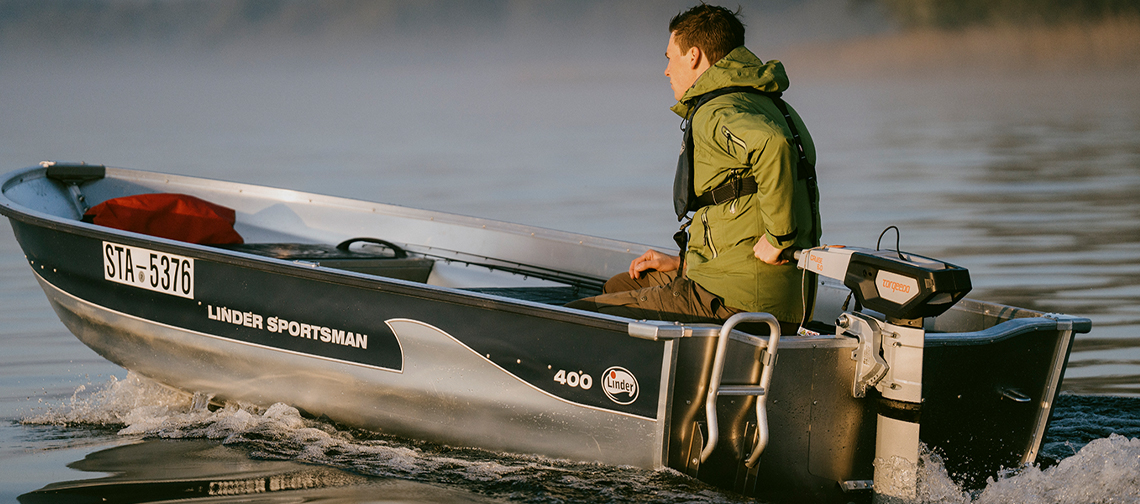 Cruise 6.0 T - Benefits:
High-efficiency outboard with 6,000 W input power, equivalent to a 9.9 HP petrol outboard

Pair with Power 48-5000 for best performance and accurate range/runtime functionality

T model is equipped with tiller control with integrated display screen and magnetic kill switch (included in scope of delivery)

Rugged pylon with integral fin – extra protection when running aground

Highest-grade seawater-proof aluminum for long service life, even in the harshest conditions

Comprehensive galvanic corrosion protection through careful matching of all materials and meticulous isolation of materials with different electrochemical properties - ships with anode set for fresh and saltwater

Also compatible with third-party batteries (48-Volt) but careful matching to motor power requirements is needed and additional cable set part number 1990-00 is required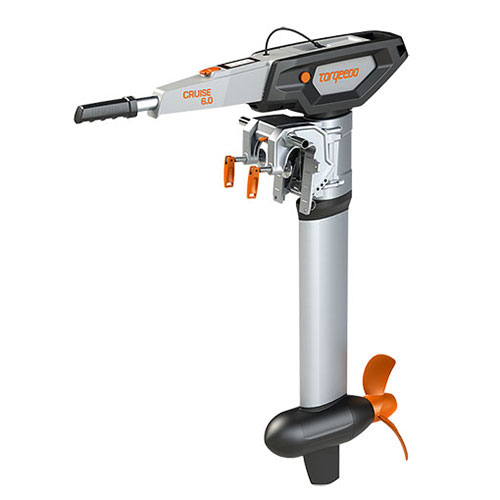 The on-board computer display provides information on the most important performance data
Cruise 6.0 with 1 x Power 48-5000
As tested on Linder 400 Sportsman
|   | Speed in km/h* | Running time in hh:mm |
| --- | --- | --- |
| Slow | 8.5 | 05:00 |
| Half throttle | 13.0 | 01:40 |
| Full throttle | 27.0 | 00:50 |
* Dependent on factors such as type of boat, load, propeller and ambient conditions. Figures for speed and range are indicative only and are not a guarantee of performance.
Technical Data Cruise
 

Cruise 6.0 T
Input power in watts
6000
Propulsive power in watts
3504
Comparable petrol outboards (propulsive power)
9.9 HP
Comparable petrol outboards (thrust)
15 HP
Maximum overall efficiency in %
58
Static thrust in lbs*
230
Integrated battery
-
Nominal voltage
48
Final charging voltage
-
Total weight in kg
21.3 (S) / 21.8 (L)
Motor weight without battery in kg
-
Weight of integrated battery
-
Shaft length in cm
62.5 (S) / 75.5 (L)
Standard propeller
v = speed in km/h at p = power in watts
Propeller B 12,5 x 17 HSP
Alternative propeller options
Propeller B 12 x 13 THR
Propeller Guide
Maximum propeller speed in rpm
1130
Control
Tiller
Steering
360° lockable
Tilting device
Manual with grounding protection
Tilt angle
61,3°
Trim device
Manual, 4-step
Integrated on-board computer
Yes
Stepless forward/reverse drive
Yes
* Torqeedo static thrust measurement is based on internationally accepted ISO standards. Static thrust figures for conventional trolling motors are typically measured differently, which results in higher values. To compare Torqeedo static thrust data with conventional trolling motors, add approximately 50% to the Torqeedo static thrust values.
Collections
Product Types
Best Sellers